Heidi's Gymnastics Girls Competitive Team
Heidi's Gym announces it's new Girls Competitive Team!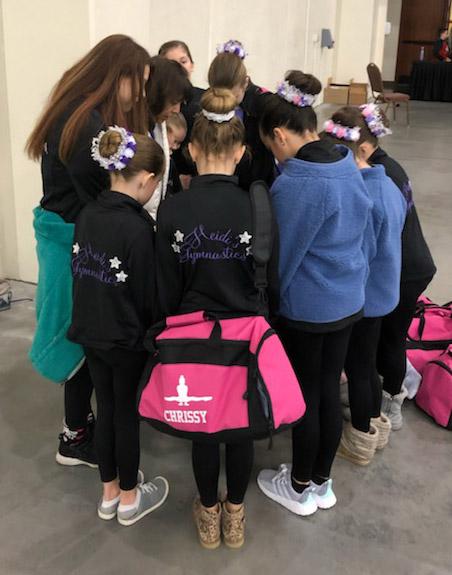 Heidi's Gym is now offering an exciting entry level gymnastics team for gymnasts wanting to experience the discipline and qualities necessary for competition, as well as the rewards for hard work! In only our second year, we placed #67 in the top 100 USA Gymnastics sanctioned gymnastics schools for our high team score in the Make It Count Spectacular, held in Sevierville, TN, one of only 5 teams in TN. to do so. *
Our goal is to give each gymnast the opportunity to be challenged in a positive, supportive program where she can find success and pride through hard work, and special friendships can be made! Each gymnast will learn how to achieve goals and develop strong work ethics. Our program is Christian based, with our team jackets monogrammed with Philippians 4:13 "I can do all things though Christ which strengthens me." We have a group prayer before we compete.

We are offering the Xcel Program, a broad based, affordable, competitive experience outside the traditional Jr. Olympic program.
Routines are custom made where each child's strengths are highlighted.
Team work is encouraged, friendships are made, and being a team player is emphasized.
Advantages of the Xcel program taught at Heidi's Gym
Knoxville has quite a few big Gymnastic Schools, but did you know our Xcel bronze team has beaten some of the bigger gyms in our category, and we are only one of 5 teams in Tennessee to make the USA gymnastics top 100 schools in February '21... all in only two years since offering competitive level gymnastic in Knoxville?
Bigger is not always better, even in competitive gymnastics. Bigger teams mean more students needed for the teams. This could mean less individualized attention, and inclusion of many girls needed to offset the high cost of big gyms.
If you're in the Knoxville area and want to be a part of a rapidly growing, dynamic Xcel team in east Tennessee, give us a call.
Congratulations to the following team members for making the
Xcel Bronze Top 100 Gymnast 2021 List

Aryana Khairollahi
Emily Kerr
Contact us about seeing if our competitive program is the right fit for your child!

*