About Heidi's Musical Gymnastics
Our Philosophy
We believe learning is a continual process, that must be enhanced in a positive, nurturing environment. Since every child is celebrated and encouraged during the learning process, significant results will be evident every month and these results will be everlasting and foundational to the physical, emotional and social development of each child.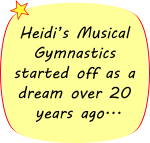 We provide a non-competitive environment enabling the child to learn without pressure, and to gain confidence and joy from his/her experience. This process will, in turn, make learning fun and encourage the child in reaching higher achievement milestones. Plus, now offering competitive gymnastics for Xcel bronze, silver and gold.
About Us
Heidi's Musical Gymnastic started off as a dream over 20 years ago (as of 2019), and God graciously put the pieces together.
Ashley & Heidi De La Rocha, then Los Angeles residents, visited Farragut in 1994, where Ashley went to school and his parents still resided. Ashley had many family members in Knoxville, and Heidi saw a need for gymnastics in the Knoxville area, since so very little was offered at that time.
Together, they hoped on offering a gymnastics program, that would later use motor skill development and encouragement to help children develop a foundation for gymnastics and other sports. They moved to Knoxville in 1995 and spent a few years struggling to turn their dream into a reality. Now, Heidi's Gym has been proud to call Knoxville, Farragut and surrounding areas its home.
We opened our doors in May 1999. The concept for Heidi's Musical Gymnastics was to offer children a creative enrichment program using music and movement to develop physical, emotional, and social skills in a loving, creative and accepting environment. We moved to our 159 West End Location in May 2001.
Heidi believes she has a special calling working with all children, including special needs children. Through her many years of hands on experience and determined study, she has designed a personal, individual program designed to motivate and monitor children's progression.
Heidi, along with her husband Ashley, founded Heidi's Musical Gymnastics as a means towards helping children reach their fullest potential.
We believe a business that has a personal relationship with every child, and is committed to providing teaching at the highest most experienced level is the way to ensure children meet many milestones and are promoted quickly and efficiently.
Heidi is the full time director and head coach of Heidi's Musical Gymnastics.
Ashley is administrator and award winning songwriter. Some of his music can be down loaded at http://www.songsforteaching.com/animalsongs.htm